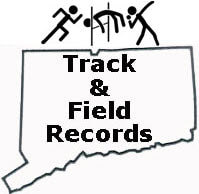 Welcome to the
Connecticut High School State Records
for Indoor and Outdoor Track & Field

Mission Statement
It has been our mission for over 30 years to recognize the best scholastic track and field records and performances by Connecticut high school athletes. The Connecticut State High School Track & Field Records represent the best recorded performances by Connecticut's CIAC high school track and field student-athletes. More specific criteria for consideration for and inclusion in these records are contained on the Policies and Procedures page.
The records posted on this site are the intellectual property of Ronald Knapp and MTFR Management.


-Featuring-
Indoor Track & Field